A few words from the Chef...
"I started from Kranidi, Argolis at a time when gastronomy in our country was in its embryonic form, when the forms of catering were very limited and the only good restaurants were located in central hotels in Athens."
"Every cook, who respects himself, and has been working, like me, for 35 years in kitchens, has acquired a way of thinking, and his own philosophy of work, and thus an attitude of life. These principles follow me in the shops I work with."
"Cuisine and catering for me is a way of life."
"The number one goal was, is and will be taste, not impressing, but that doesn't mean we have to make everything simple or simplistic."
"The shops must serve the culinary arts, but they must also be financially viable."
"These principles, along with the good cooking practices he espouses, he has been trying for 20 years to pass on to generations of his students, promising young chefs, many of whom have gone on to serious careers."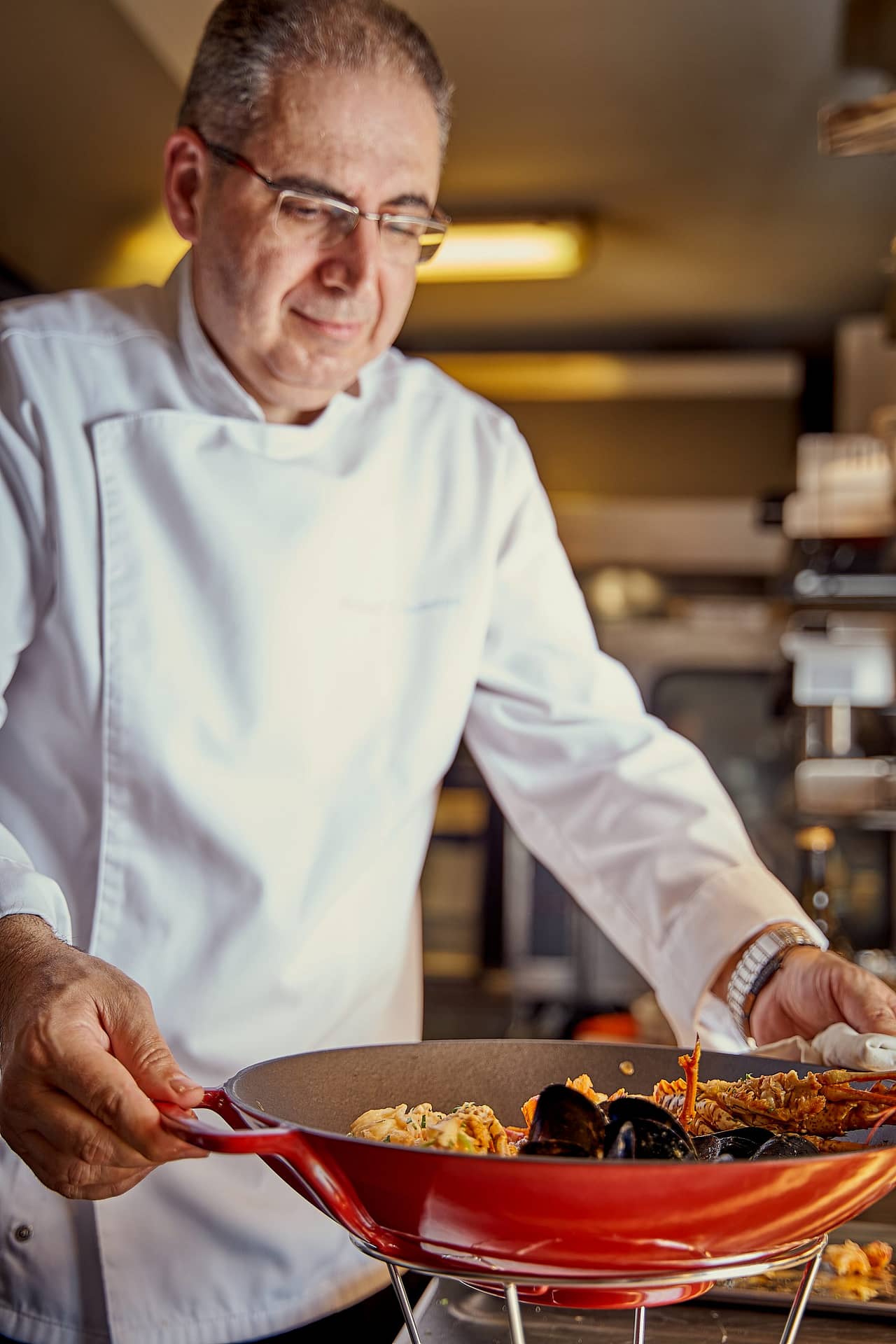 From a small town, Kranidi in Argolis started its gastronomic journey at the age of 18, which lasts until today. He graduated from the high school of Kranidi, graduated from the school of tourism professions in Anavyssos, where he started working in large central hotels in Athens. (Intercontinental , Ledra Marriot) , as well as the best restaurant of the time in Athens "Pajazzo" with his first mentor Klauss Fauerbach. After finishing his military service he goes and works for 7 years at the Intercontinental Luxembourg and in the 2-star restaurant La Bergerie.
He returns to Greece and takes over as Executive Chef in large catering companies and restaurant chains and starts his teaching career at the school Le monde.
He attends seminars on French and Italian cuisine and pastry in France and Italy. Chocolate courses in France and Italy Valhrona in France, perhaps the only chef chef certified by the Valhrona. He specializes in Mediterranean cuisine in all its manifestations. Italian, French, Greek.
Gains knowledge of Moroccan and Cuban cuisine, trained in restaurants in Morocco and the Athens.
He offers his knowledge to food and catering companies as he has worked with most major companies in the industry such as Creta Farm, Gregorys. Unilever, Gilli Diet, Agrino and others to create various culinary product lines.